Young Church
YOUNG CHURCH
Welcome to Cotteridge Young Church!
Young Church is for children aged 0 to 14 years old. We meet during the Sunday morning service at 10.30 am in three groups.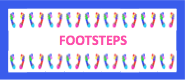 'Footsteps' is for new-borns and pre-school children. There are a variety of toys available to play with plus a bible story and an activity, for when children are ready for more.
Parents are welcome to stay with their children until they are comfortable with being left.

'Pathways' is for children in Reception to Yr 3. The session starts with a themed activity. We then explore the bible story and enjoy a related craft activity. We finish our time together with a prayer.

'Horizons' is for children in Yr4 to Yr 9. We start our sessions with an activity, related to the bible story. We then read or listen to the bible story and respond with some simple drama or craft , before closing in prayer.
All groups follow the Urban Saints "Energize" programme.
Children are cared for by a dedicated team of volunteers, all of whom are DBS checked and members of our church. Volunteers receive regular training and are used to supporting both children and parents, as the children grow in their independence.

Parents and Carers are required to fill in a consent form for their children.

If your child has individual needs or requirements, we would like to be able to support them. We aim for each child to have a positive experience during their time with us. To help us do this, please speak to Sue Clayton, or email to arrange a time to meet.

If you are new to our church, or visiting and not sure where to take your children, please ask the steward handing out hymn books, before you go into the service.

If you would like discuss any element of Cotteridge Young Church, please contact Sue at youngchurch@thecotteridgechurch.org.uk
To see more of what we do, please look at: